Do you find yourself craving a peaceful space in your backyard? A haven that is a part of your home while serving as an escape? Garden Chalets provide you with the opportunity to create that space, blurring the boundaries between garden and home.
A garden room creates a seamless space that serves as the perfect balance between indoors and out and the garden room ideas and possibilities are almost endless. Expand your living space by using a Garden Chalet as a quiet work area, create a personal retreat with a private spa, or give yourself a more convenient and enjoyable workout experience with a home gym studio.
Garden rooms provide a space to share dinner with family, drinks with friends, or a cozy she-shed to take some time for yourself. The beauty of a Garden Chalet is that you can really make it whatever you need it to be.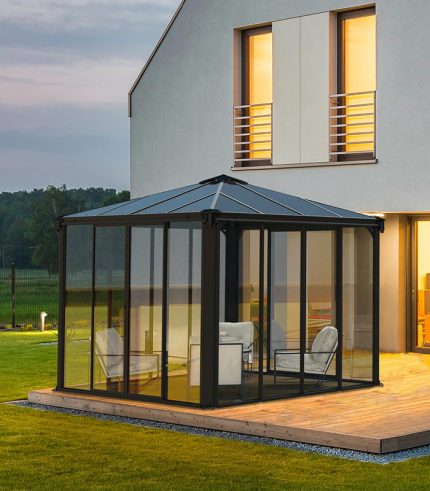 3.0m - €6670 3.6m - €8420 4.5m - €9250 Canopia Ledro Enclosed Gazebo Highly durable, elegant enclosed gazebo kit Firm, rust-resistant, reinforced aluminium structure, engineered to withstand harsh weather conditions Twin-wall bronze tinted polycarbonate roofing; does not turn yellow or become brittle. Proprietary screw-free glazing assembly system, specially developed to prevent rain/dew leaks Large sliding doors allow enjoying the Ledro as a half-open Gazebo or a multi-purpose intimate enclosed gazebo. Enclosed gazebo ideas fulfil many indoor purposes in the heart of your garden, any season: resting area, reading room, BB, canopy, garden office, party lounge, spa cabin… 100% protection from harmful sun rays (UV) allows endless recreation time outdoor Maintenance-free and built-to-last thanks to outstandingly durable materials Made with 100% recyclable components The Gazebos are available in various sizes.