We offer an extensive selection of enclosed and open-air gazebo kits that provide shade and protection, allowing you to enjoy your outdoor space more often.
Every gazebo kit is engineered to be extremely sturdy but designed to add to the beauty of your yard. The durability of these garden gazebos come from their combination of rust-resistant powder-coated aluminum frame and virtually unbreakable polycarbonate roof panels. Available in a variety of shapes, colors, and sizes, we have an outdoor gazebo style to complement your garden.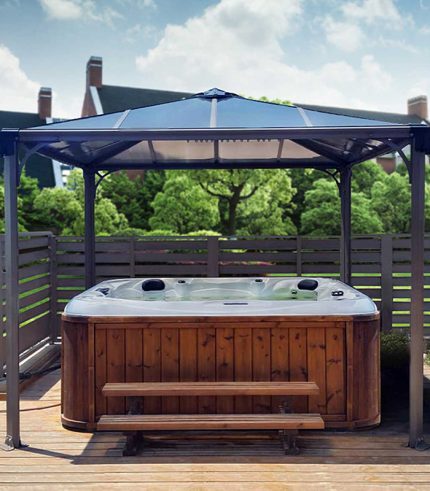 Canopia Palermo Gazebo – Inspiration modern patio gazebos Highly durable, elegant metal gazebo Firm, rust-resistant aluminium gazebo, engineered to withstand harsh weather conditions Twin-wall bronze tinted polycarbonate roofing; does not turn yellow or become brittle over time Proprietary screw-free glazing assembly system, specially developed to prevent rain/dew leaks 100% protection from harmful sun rays (UV) allows endless recreation time outdoor Gazebo kits Maintenance-free and built-to-last thanks to outstandingly durable materials Made with 100% recyclable components The Gazebos are available in various sizes.